Lewisham is crisscrossed with railway lines. There are low railway bridges, railway sidings, nature reserves on railway embankments and SE London's railway junction and transport hub at Lewisham station. Railways are important to Lewisham.
The powerful Public Accounts Committee has published a damning critique of the Government's ability to deliver the reforms needed. The Department for Transport (DfT) "has neither the necessary urgency nor appreciates the scale of the challenge ahead" about the future of rail they say, in today's report an Overview of the English rail system [7th July 2021]
Manuel Cortes, General Secretary of the railway trade union, TSSA said: "Grant Shapps recently outlined his 'Great British Railways' plans for reform. I'm yet to be convinced this is more than papering over the cracks. We have already seen passengers ripped off over so-called flexible season tickets."
"We don't need spin and charades from government. We need our railways at the very heart of a joined-up, green and fully accessible public transport system, with electrification of the network a key driver to meeting our decarbonisation targets."
RMT General Secretary Mick Lynch said: "Behind its measured language, what this report shows is that Ministers have got all their priorities wrong. Their response to the plight of rail is clouded by a dogmatic fixation with designing a system which can bolt the failed private train operators back into place instead of setting a clear strategy for rail to play its part in delivering a long term safe and sustainable massive increase public transport use to help meet the climate change challenge."
"Every single failing detailed by the Public Accounts Committee, without exception, could begin to be tackled if we took back real control and created an integrated, publicly owned and publicly accountable railway where time, resources, and every penny of tax and fare payer is spent on improving services and not wasted trying to satisfy the parasitical carpet baggers clustered round our railways."
"We need a rail rethink which puts rail and public transport generally at the heart of a green transport revolution that will reduce emissions and pollution."
Secretary of State for Transport, Grant Shapps, MP in a forward to the Government's plans said: "We want our trains to run on time. This is our plan to do that, and to deliver a wider change on our railways that has never been needed more. The chaotic timetable changes three years ago showed all too clearly that the old ways were not working."
However, the public accounts committee has repeatedly highlighted how passengers are too often an afterthought in major rail projects. The aftermath of Covid-19 and the end of franchising offer options to deliver better services for passengers in a way that meets new travel demands, but the DfT now faces "an extremely challenging and uncertain environment in which to implement its proposed reforms".
The English rail system has "suffered from a lack of strategic direction and accountability for many years" and "struggled to improve service reliability, quality and flexibility" with "delivery of services not sufficiently focused on the needs of passengers", says the committee's report.
"The Government must ensure that rail delivers better services for passengers in a way that meets new travel demands [after Covid-19]. At the same time the high-cost fixed assets required to run these services need to be maintained, while keeping ticket prices affordable to encourage people to travel by rail."

They say: "We are concerned that the Department has neither the necessary urgency nor appreciates the scale of the challenge ahead. Now is the time to make radical, effective reform in the rail system and aspirations and intentions need to be turned into concrete actions that deliver meaningful change."
TSSA union leader Cortes said: "This report must be a wakeup call for the government – they are being told a series of home truths which can't be ignored as we begin to move out of the shadow of the pandemic.
"The MPs on the Public Accounts Committee understand that we need our railways to be front and centre of the recovery from covid and that only by getting people back onto the network can the wider economy function."
"As the committee points out, passengers have been 'an afterthought' since the advent of what it rightly describes as 'failed' privatisation, something our union has been pointing out for many years."
"That is why our union is well down the track with our Future of Rail campaign – because we all need railways which work best for passengers, staff and our environment. It's time for ministers to follow suit."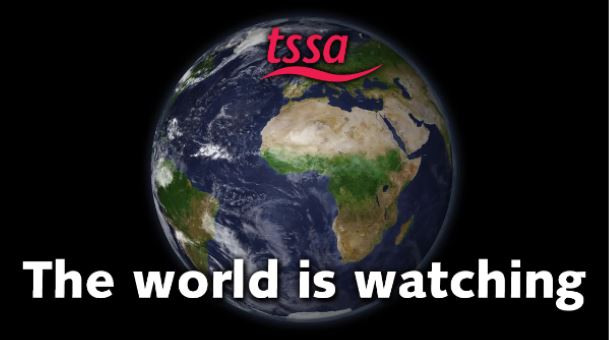 Cllr Alan Hall has signed the TSSA declaration that says: "We are all on one planet. There's nowhere else we can move to. Fail to keep global heating below a 1.5 degrees C increase and we face a future in which much of the world is threatened by scarcity of food and water, frequently battered by climate induced extreme weather events and more frequent pandemics; with parts of an increasing number of countries becoming unliveable. The G7 summit and the COP26 conference in November matters because what happens in the next five years is make or break."